Here's what Anne Wayman had to say after her 3-session sampler:
"Marti's magic! Not only has she helped my two female cats feel less awful about each other (I didn't know that two women cat's in the same household could cause problems - and this morning they actually shared the bed with me briefly - both of them with no growling) but she also did some work with me and an issue I had.
I'm not sure how it works for the cats, but they always came in when it was time to talk with Marti, and Fiona actually loved to nuzzle the phone while Marti was online. Fiona ignores the phone completely unless it's Marti.
I can't recommend her highly enough."

- Anne Wayman
www.WritingWithVision.com/
EVENTS AND SPECIAL DEALS
Helping pet lovers who want to deepen their connection with their pets and help them through illness or other challenges


SPECIAL OFFER: 3-SESSION SAMPLER
Your pet may be suffering, and perhaps you are worried and don't know where to turn. You wonder why this is happening. You feel desperate in your need to truly bring help to your pet.

You did everything "right": you followed your veterinarian's advice, explored some alternatives, and tried some herbs or techniques on your own. But things aren't changing and you don't know what else to try.

When you're in a panic and trying everything you can think of to ease your pet's pain, you may not be trying anything long enough to make a difference. Also, many treatments and techniques take a "one size fits all" approach that may not honor your pet and the special place they hold in your heart and in your family.

And that place of panic pretty-much guarantees that you lose touch with your heart connection with your animal friend and your own inner wisdom, too.

You need to create a sacred space of calm where you can feel your heart's connection to your pet and listen to your own inner knowing.

From this connected place, let yourself begin to guess at what your pet might be telling you through its present challenge. Let yourself be curious about how you might bring comfort to your pet's body though touch, special food or accommodations.
If your pet needs medicine or herbs let yourself bring this same connected curiosity to any appointments with your vet or information about alternative care.

We want health on all levels for ourselves and the pets we love. And our pets know more about what they need then we may be used to considering. Learning to trust your own deeper knowing and your heart connection to your pet will add depth and direction to any challenge you face.
3-session samplers (2 hours total - a 1-hour initial consultation and 2 half-hour follow-up energy sessions scheduled to suit your convenience and your
animal's needs) are appropriate for:
- A single issue that just needs a little extra support
- A short-term boost or jump-start
- Trying out a variety of our services
- Gift certificates
Benefits:
- Focus on one issue, such as:
- Find out what kind of help your pet would like.
- Ease transitions
- Support healing from disease or injury
- Find out what foods will support your pet in improving health
- Receive insight into interpersonal or interspecies relationships, including blended households
- Receive insight into issues behind physical manifestations
- Identify steps you can take to help
To make an appointment, please e-mail or call Marti at +1 208-634-1449. I will ask to talk with you for 10-15 minutes, at no charge, to determine whether my services are appropriate for your situation. I will also ask you to fill out a disclosure form/questionnaire, and I can bill you through PayPal, once you agree that you want an appointment. If you wish, you may decide whether you would like to stop at a single session or continue with a package at the end of the first session.
You'll also receive my free workbook, Many Ways to Connect, and a subscription to my monthly e-zine, Anima! Connections (unsubscribe any time).
Fees : 3-session sampler, $179 (Regular price $197)
Phone consultations are my norm; distance is not an issue when doing this work.
However, in-person "house calls" are available on a limited basis, with an additional mileage charge of $1/mile (one way) for distances greater than 10 miles. This means that there will be no mileage charge for McCall or Donnelly.
I also have "office hours" available at my location by appointment.
About Marti:
I see the human-animal connection as a sacred bond, and I believe it is a central and important part of our connection to the natural world. We can learn many things from our animal friends, not the least of which is unconditional love.

I am honored to support the healing of animals, and through this to nurture more love and understanding between animals and their humans. To do this I use a variety of tools that I've collected over many years.

For over 35 years, I've researched herbs and natural health care. I've been helping family and friends with health issues since 1990 and started doing body work and consultations as a business in 1997. I use intuition confirmed with kinesiology/muscle testing in my consultations with animals and people, as well as energy work, including Reiki, Tellington TTouch, and Sound Tune-Ups.
<![if !vml]>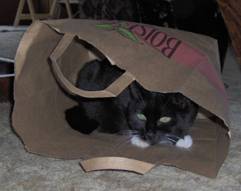 <![endif]>
Holiday gift-giving? Special occasion? Gift certificates always available.